May 2012
Dates to Remember
May 11, 2012 - Rank test.
May 12, 2012 - 12pm. Kids and youth stretching and exercise class using the exercise ball. Invite family and friends! This special class will be conducted by Dr. Michael Vajda.
May 16, 2012 - CMA Demo at Keigwin Cultural Dinner. 5:30pm.
May 19, 2012 - Assistant instructor meeting. See Sifu Deb for details.
May 26 and May 28, 2012 - Closed for Memorial Day Weekend. Monday students may attend Tuesday class this week.
May 30, 2012 - Cromwell Memorial Day Parade. Sign up to march with our school using the sign-up sheet in the spectator area!

*Note: Please be sure to hand in Rank registration forms and the fee at least 48 hours before you are testing! Spectators: Please turn off cell phones during the test!
SEE OUR EVENTS PAGE FOR A LISTING OF ALL OF OUR UPCOMING EVENTS!
During storm conditions call us one hour in advance of your class to check on cancellations.
See the CMA demo video at www.youtube.com/CMAKarate
---
Blue Belt weapons home training DVD is now available! It includes Bo form two (Choun No Kon), double and reverse sinawali, and the 12 stick disarms! Filmed using enhanced audio!
---
NEW Modern Arnis Patches Have Arrived!
Modern Arnis patches are now available! Please purchase yours asap since they are in limited supply! Cost is $5. Patch should be placed on right pant leg of Gi, on shin, 6" up from bottom of pant leg. Thanks Sifu Wayne for the design, Thanks to Sensei Johnny Hughes for assistance in the ordering process.
---
Please Note:
For safety and to maintain a professional environment, please monitor your children while watching classes in our spectator area. Please see that noise levels are kept to a minimum and that our hallway is kept clear. Thank you.
For safety and hygiene purposes, all students that spar must have their own complete set of sparring gear. Please see Sifu Deb if you need to order your own gear.
Please follow the flow of traffic around the back of the building when entering and leaving the parking lot. Please note that there are arrows indicating the proper flow of traffic.
---
Advance more quickly through home training!
Check out our DVD page on the CMA web site! DVD's can now be ordered on-line through paypal!
NEW! The modern arnis black belt home training DVD is now available! Freestyle sparring and advanced concepts. Filmed with enhanced audio!
Check out sample video footage of a DVD! Arnis Black Belt coming soon !
We offer a large variety of training DVD's for our Kenpo program, Modern Arnis program, Bo staff and more! Using the DVD's for your home training will accelerate your progress!
---

Thank you for your support! CMA is proud to have been a consistent award winner with The Hartford Advocate's best Martial Arts school poll for 10 years!

---
Congratulations to our students that have earned the following promotions: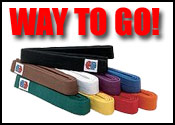 Jennifer Tortora - Blue
Steven Dale - 3rd Brown
Amanda Perotta - Green
Alicia Schmidt - Green
Michael Dale - Green
Meghan Foster - Yellow
Emeka Yearwood - Yellow
Nicholas Ramirez - Yellow
Deniz Pine - Yellow
Emma Adams - High Yellow
Sarah Dolezel - Yellow
Aidan Adams - High Yellow
Victor Triay - High Green
Stephanie Hammond - Yellow / Modern Arnis
Mike Corsello - Yellow / Modern Arnis
---
Looking for a new challenge? Ask about our weapons curriculum including bo staff, sticks, swords, kama, nunchucks, knife, and sai.
Private Lessons - Private lessons are a great way to keep up with missed classes due to vacations and other reasons. Lessons are $20.00 per ½ hour or prepaid $60.00 for four ½ hour lessons. See Sifu Debbie or Sensei for dates and times. Please give 24 hours advance notice when cancelling a private lesson to avoid being charged for the lesson.
---
School Creeds - Our school creeds are posted on the back wall of our Dojo. Please learn the creeds, give thought to their meaning, and apply them! Developing a code of conduct: how we act on a daily basis, is a large part of what our martial arts training is all about!
Creed #1 - I intend to develop myself in a positive manner and to avoid anything that would reduce my mental growth or my physical health.
Creed #2 - I intend to develop my self discipline in order to bring out the best in myself and others.
Creed #3 - I intend to use what I learn in class constructively and defensively to help myself and others, and to never be abusive or offensive.
---
CMA DEMO TEAM
CMA's demo team is dedicated to showcasing the benefits, discipline, and hard work associated with the martial arts. Our training is above and beyond the standard class curriculum. We have special training practices and perform at schools, public events, parades, and more. The demo team is not an opportunity to be instructed or corrected on your requirement material. The demo's are designed to educate, entertain, serve the community, and display what we do at CMA while introducing us to the public!

Team Captain: Sifu Debbie Shekosky
Assistant Captain: Kaitlyn Pearce
Team Directors: Sifu Deb Shekosky and Sensei Frank Shekosky

Becoming a demo team member is by invitation. Students must be able to demonstrate their requirement material as well as demo team material proficiently, be able and willing to attend the mandatory demo team practices, and most of all, show school SPIRIT and enthusiasm! See our demo team page for more details!
Contact Sensei Shekosky to book a CMA demo at your activity or special event!
---
Did you know that "Sifu" is a Chinese term for teacher? At CMA it is especially an honor to reach the level of Sifu.
Sensei Shekosky, the Master instructor, may promote students to the level of Sifu when they meet all of the the following criteria: