NEWS 2016

Dates to Remember

- Closed October 31, 2016
-Modern Arnis seminar by Sensei Frank FMAC Fitchburg, MA November 16, 2016



*Note: Please be sure to hand in Rank registration forms and the fee at least 48 hours before you are testing! Spectators: Please turn off cell phones during the test!
White shirts are on sale for only $9!


CMA is WIFI hot spot! See Sensei for the WIFI password.
SEE OUR EVENTS PAGE FOR A LISTING OF ALL OF OUR UPCOMING EVENTS!
During storm conditions call us one hour in advance of your class to check on cancellations. Also check TV Channel NBC.
See the CMA demo video at www.youtube.com/CMAKarate
---
Let's Keep Safe:
Please monitor your children in our spectator area. Please keep noise levels to a minimum and the hallway clear. Thank you.
All students who spar must have their own personal set of sparring gear. Please order all gear and uniforms though the school.
Please follow the flow of traffic around the back of the building when entering and leaving the parking lot. Please note that there are arrows indicating the proper flow of traffic.
---
Advance more quickly through home training!
Check out our DVD page on the CMA web site! DVDs can be ordered on-line through paypal!
Check out sample video footage of a DVD!
We offer a large variety of training DVDs for our Kenpo program, Modern Arnis program, Bo staff and more! Using the DVDs for your home training will accelerate your progress!
---

Thank you for your support! CMA is proud to have been a consistent award winner with The Hartford Advocate's best Martial Arts school poll for 10 years!

---
Congratulations to our students who have earned the following promotions:
(Names of students from recent test to be announced soon.)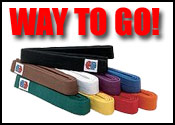 ---
Looking for a new challenge? Ask about our weapon's curriculum including bo staff, sticks, swords, kama, nunchucks, knife, and sai.
Private Lessons - Private lessons are a great way to make up for missed classes. Lessons are $20.00 per ½ hour. See Sensei for dates and times. Please give 24 hours advance notice when cancelling a private lesson to avoid being charged for the lesson.
---
School Creeds - Our school creeds are posted on the back wall of our Dojo. Please learn the creeds, give thought to their meaning, and apply them! Developing a code of conduct: how we act on a daily basis, is a large part of what our martial arts training is all about!
Creed #1 - I intend to develop myself in a positive manner and to avoid anything that would reduce my mental growth or my physical health.
Creed #2 - I intend to develop my self discipline in order to bring out the best in myself and others.
Creed #3 - I intend to use what I learn in class constructively and defensively to help myself and others, and to never be abusive or offensive.
---
CMA DEMO TEAM
CMA's Demo Team showcases the benefits, discipline, and hard work associated with martial arts. Our team's training is above and beyond the standard class curriculum. We have special training practices and perform at schools, public events, parades, and more. The demo team is not an opportunity to be instructed or corrected on your requirement material. The demos are designed to educate, entertain, serve the community, and display what we do at CMA while introducing us to the public!

Team Director: Sensei Frank Shekosky
Team leaders: Alicia Schmidt, Eric Czech, Chris Goss

Becoming a demo team member is by invitation. Students must be able to demonstrate their requirement material as well as demo team material proficiently, be able and willing to attend the mandatory demo team practices, and most of all, show school SPIRIT and enthusiasm! See our demo team page for more details!
Contact Sensei Shekosky to book a CMA demo at your activity or special event!
---
Did you know that "Sifu" is a Chinese term for teacher? At CMA it is especially an honor to reach the level of Sifu.
Sensei Shekosky, the Master instructor, may promote students to the level of Sifu when they meet all of the the following criteria: