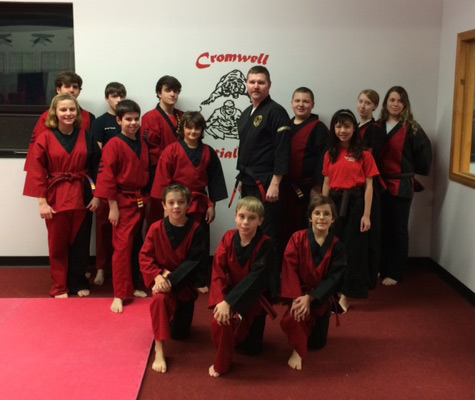 Welcome to the Cromwell Martial Arts' Demo Team web page! Our Demo Team members showcase the benefits of martial arts such as developing self-defense skills, discipline and confidence. Our goals are to educate, to entertain and to be a positive force in our community. We perform at schools, parades and many other events. Our "CAN DO" attitude comes from our hard work and dedication.
Junior Leaders
Connor Dale and Steven Dale
Team Director:
Sensei Frank Shekosky
Our CMA Demo Team has appeared at events such as:
The Relay for Life - to benefit The American Cancer Society
The Tour Du Cure - to benefit The American Diabetes Association
Benefits for St. Jude's Research Hospital for Kids
Fairfield University - to help celebrate The Chinese New Year
Travelers MS Walk
The New Britain Rock Cats.........
and many other local events to help raise
funds for numerous causes and charities.
Interested in becoming a team member?
Must be yellow belt level or higher
Be invitated by Sensei
Be able to demonstrate material proficiently
Be able to attend mandatory Demo Team practices
And most of all, show school spirit and enthusiasm!
Mandatory practices are announced in newsletter and on bulletin board


*Team practices are geared toward our demos. CMA requirement material is not evaluated during demo practice sessions.
Checkout the Demo Team in Action!

See our events page for upcoming demos!
Interested in having the Cromwell Martial Arts Demo Team perform at your school or event? Please email us or call (860) 632-8188 for more information.