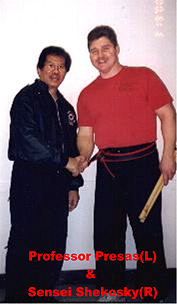 Modern Arnis incorporates the use of single stick, double stick, knife and empty hand techniques. The Art of Modern Arnis was created from elements of both Filipino and non-Filipino fighting styles. Modern Arnis can be learned as its own style or can be easily incorporated into other martial arts styles.
Training in Modern Arnis makes many martial artists discover new things about their own style and blends well with the best movements of those styles. Many people have called Modern Arnis "the art within your art." It can greatly enhance and assist whatever art that you may already be training in.
The Modern Arnis curriculum at Cromwell Martial Arts first focuses on the fundamentals and will take you in a step by step progression in developing the key ingredients that are necessary to become proficient in the Art. As you progress from beginner through advanced level, you will learn to make the translation between stick, blade and empty hand. Through diligent training you will develop "the flow". Modern Arnis is a stand alone system with it's own belt ranking that may also be incorporated into your current training.
Our Master Instructor, Frank Shekosky, was a personal student of the late Grandmaster Remy Presas for nearly 15 years and has been certified as an Advanced Instructor and was named as a senior student of The Professor. Sensei Shekosky has instructed thousands of students across the country, has been inducted into the International Modern Arnis Hall Of Fame in Villanova, PA in June 2015 and has produced a series of very successful home training DVDs.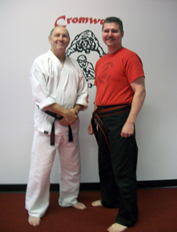 Sensei Shekosky has taken all of the core concepts from the Modern Arnis that he has learned from personally training with Grandmaster Presas as well as many of the Professor's other senior students, and has made his own innovations into the art. At Cromwell Martial Arts you will learn the complete art of Modern Arnis as well as additional double stick drills and forms, traditional lower body kicks, step by step emptyhand vs. stick defenses, and joint locking techniques.
Sensei Shekosky has "made the art his own", and shares his experience with students from all styles and backrounds.

Check out sample video footage of what you will learn!
Various Modern Arnis Footage and High Green Belt Footage.
Photos from our Modern Arnis classes.
Contact us to enroll in our Modern Arnis classes. Modern Arnis is taught in private lessons, seminars, and is often worked into our Kenpo group classes.
For more information on this great Martial Arts program, please visit the
Connecticut Modern Arnis Jujitsu (CTMAJ) Website at www.CTMAJ.com.
CONTACT SENSEI SHEKOSKY TO CONDUCT A MODERN ARNIS JU JITSU SEMINAR
IN YOUR SCHOOL! TELEPHONE - (860) 632-8188.
We also offer a full line of Modern Arnis Instructional Videos!
Modern Arnis Seminar Testimonials
We would like to extend our thanks and appreciation to Sensei Frank Shekosky, of Cromwell Martial Arts, for an excellent and informative seminar on the Blue Belt requirements in Modern Arnis. Sensei Shekosky is a skillful and knowledgeable Arnis instructor, and his seminars are a great adjunct to any martial art studio's curriculum. - Dr. Len Brassard, Family Martial Arts Center
Cromwell Martial Arts received an Excellence Award from the IMAF for its hosting of the 2002 Summer East Coast Modern Arnis Camp. Cromwell Martial Arts has also been voted as the #1 martial arts school 2002 - 2006 by The Hartford Advocates readers poll.