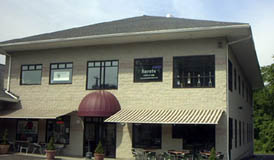 BENEFITS OF KARATE:
Self-Defense Skills
Improved Fitness
Self-Confidence
Self-Discipline & Control
Increased Awareness
CROMWELL MARTIAL ARTS offers:
Quality martial arts instruction by a professional, experienced staff
A safe training environment
Classes for men, women and children
Private and group lessons
Friendly, professional environment
Affordable prices
Convenient location
Martial arts supplies
Family discounts
Karate birthday parties, demos, and gift certificates
NORMAL BUSINESS HOURS
Monday........5PM-8PM
Tuesday.......5PM-8PM
Wednesday.....By appointment
Thursday......5PM-6:15PM
Friday........By appointment
Saturday......9AM-1PM
Sunday........By appointment

We Gladly Accept:




Personal Checks

Cash/Money Orders

/Paypal
For more information please e-mail us with your name, telephone number or mailing address and we will promptly contact you with further information concerning classes!
FLEXIBLE MEMBERSHIPS AVAILABLE
Month to Month, 6 month & 12 month memberships.
MARTIAL ARTS SUPPLIES are available in our store. Items not available, can normally be ordered and received within 3-5 business days.
To sign up for classes or order supplies call us at (860)632-8188 or email us.
Some Photos of the Cromwell Martial Arts Training Facility
COME DOWN AND CHECK OUT ONE OF OUR GREAT CLASSES!
Cromwell Martial Arts
871F Newfield St.
Middletown, CT. 06457
(860)632-8188
Cromwell Martial Arts and the Cromwell Martial Arts logo are trademarks of
Cromwell Martial Arts, LLC.