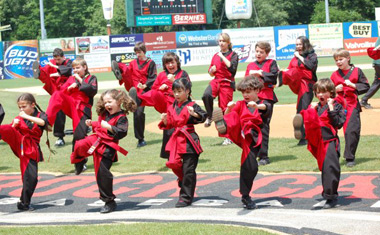 Cromwell Martial Arts was established, and has been under the same management, since1993 and offers martial arts classes for men, women and children in Kenpo Karate, Modern Arnis Ju Jitsu, Okinawan martial arts weapons, and Self-defense. Our mission is to provide quality martial arts training that helps our students become better people by:
Providing a safe martial arts training environment.

Developing a code of conduct, as well as learning effective
self-defense and martial art skills.

Offering a friendly, professional instructor staff.

Acting as a positive force in our community.
Cromwell Martial Arts has also promoted world class martial arts seminars with legendary instructors Grand Master Remy A. Presas, Grand Master Wally Jay, Grand Master Joe Lewis, and noted instructors Professor Lee Wedlake, Grand Master Dan Anderson, and MARPPIO 's Dr. Remy Presas, Jr. We also provide martial arts and self-defense classes through the Cromwell Recreation Department. Learn more about our school...
Cromwell Martial Arts also offers martial arts training gear and equipment. If we do not have it in stock we can order anything you may need.
Providing Martial Arts Instruction in
Middlesex County, Connecticut Since 1993!

Kenpo Karate • Modern Arnis • Okinawan Weapons
Personal Protection • Self-defense • Seminars